In July I got a note from Laura TRAPPMANN (G. Hoener) that they were able to import some special Nannoptopoma from Peru.
The company is known for importing rarities from time to time and one such coup was this import of a nearly unknown catfish. But the systematics of these small loricariid catfish are not always consistent: species that were once all unceremoniously called Otocinclus sp. are in fact representatives of a whole range of genera and the species presented here is one of them.
Nannoptopoma was described by SCHAEFER (1996), the species Otocinclus spectabilis (EIGENMANN 1914), which was already scientifically recorded in 1914, was defined as the type species in this work, and the species epithet was changed to N. spectabile while the species N. sternoptychum was added to the genus. Both species are rarely available in the aquarium trade and are not immensely popular either. However, the situation is completely different with the species N. sp. "Blanco" resented here and especially the attractively orange-coloured N. sp. "Peru". These undescribed species are particularly popular with experienced aquarists. Although they are only available for short periods of time due to the seasons, they are being searched for frequently despite their comparatively high prices. Nevertheless, a systematic change has largely bypassed aquarists: the revalidation of Nannoptopoma (DELAPIEVE et al., 2017), after its two species were transferred to Hypoptopoma in advance (AQUINO & SCHAEFER, 2010).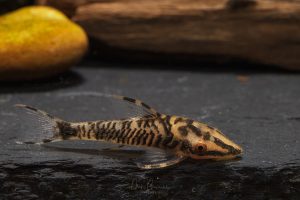 The latter authors cited the presence of enlarged odontodes at the posterior edge of the abdominal trunk plates and a laterally enlarged bone plate in the neck as key features of Hypoptopoma. Nannoptopoma was then synonymised with Hypoptopoma, as these morphological features also applied to the two known species. The study of numerous representatives of Hypoptopomatini (DELAPIEVE et al., 2017) showed that Nannoptopoma is a sister group to the genus Leptotocinclus, which was newly described in this study, and that the phylogeny of the tribe would not be sustainable as long as Nannoptopoma was considered a junior synonym to Hypoptopoma. Thus, the genus would have to be revalidated to achieve the "higher taxonomic goal".
As a distinguishing and identifying feature to all possible species it is stated in the following that Nannoptopoma has only one lateral abdominal and two to three medial abdominal bone plates. All other related genera have more lateral abdominal bone plates and can therefore be easily identified from a ventral view. Based on these characteristics the genus Nannoptopoma was thus revalidated. A more common description of Nannoptopoma could be as follows: Not dissimilar to an Otocinclus at first sight, but flatter and a little more elegant in build, the eyes even more displaced to the sides of the head and the head more pointed.
Mike MEUSCHKE, who recently acquired some Nannoptopoma sp. "Blanco" and to whom we owe the pictures, reports after four weeks of care that the catfish should be cared for similar to the better known species N. sp. "Peru". However, they are also very jumpy and do not like to show themselves. The species is definitely still undescribed and can be found in trade under different names: While it was probably first shown to the general public on L-Welse.com through pictures of a Peruvian exporter, and was introduced there as Nannoptopoma sp. "White", the Spanish counterpart "Blanco" is now more common as a name addition. In Asia, the species is mostly known as "Otocinclus Vampire", among exporters as "Otocinclus Blanco". The Río Huallaga in Peru, or probably one of its tributaries, is considered the most likely area of origin.
Literature
AQUINO AE, SCHAEFER SA. Systematics of the genus Hypoptopoma GÜNTHER, 1868 (Siluriformes, Loricariidae). Bull Am Mus Nat Hist. 2010; 336:1-110.
DELAPIEVE, Maria Laura S., LEHMANN A, Pablo, & REIS, Roberto E. (2017). An appraisal of the phylogenetic relationships of Hypoptopomatini cascudinhos with description of two new genera and three new species (Siluriformes: Loricariidae). Neotropical Ichthyology, 15(4), e170079. Epub December 21, 2017.
SCHAEFER SA. Nannoptopoma, a new genus of Loricariid catfishes (Siluriformes: Loricariidae) from the Amazon and Orinoco River Basins. Copeia. 1996; (4):913-26.
Author: Daniel KONN-VETTERLEIN – Pictures: Mike MEUSCHKE

This entry was posted in